Nabilah Egyptian Arabian Bloodstock
---
---
---

Double click to edit
Double click to edit

Marzoukh (imp) Mahknificent KA x Marques Jewell
Marzoukh was imported from the Keheilan stud, Fort Worth, Texas. He is one of those rare stallions who has it all. Perfect conformation dead straight legs perfect hooves, slanted deep shoulder, strong hind quarter, a long hip, beautiful head and large eyes. He has an exceptional neck showing a definite Mitbah. You just cannot fault his conformation and he carries it over to his foals.
He was placed second in his class at the Egyptian event and third in the top ten colts. He was judged by 3 international judges. Marie Louise van Wyk awarded him full marks for movement and he scored above 19 in all other categories.
When we were searching for a stallion for our mares we were looking for an individual that was not overly line bred to Nazeer but wanted something different. Our mares originate from stock imported from Egypt during the 1940's. These 'old' lines did not contain Nazeer. Marzoukh is line bred to Makhsous who only contains Nazeer twice. Marzoukh's Sire Mahknificent KA and grand sire Marques 1 are both magnificent horses with true Arabian type. We are blessed to have a stallion of this breeding and quality in our stud.
View his pedigree
here.
Nabilah Saqarah Nafis (imp) x Gulilah Saraqa
Saqarah is an exceptional stallion he stands 15.3 hands high has an exceptional shoulder and neck, beautiful head, large eyes and a long hip. He is very athletic has a long stride in both his trot and canter, boasting lots of speed. He is a wonderful ride.
His sire Nafis (Imperial Imdal x Imperial Naffata) was bred by her highness princess Alia of Jordan. His grand sire was the legendary world champion stallion Imperial Imdal. Nafis was a successful race horse winning numerous races in the Middle East. Through Nafis our stud obtained blood from the famous Ansata and Imperial studs and access to the valuable blood of Ansata Ibn Halima.
Saqarah's dam Saraqa is one of our best producing mares her sire Shari Silic Akbar was bred out of Omar El Shaker, a Skaker El Masri son. Shaker El Masri was also the sire of the world renowned stallion Al Shaklan. Not many stallions can boast two world champions in their pedigree. Following the golden thread Saqarah can only be a star.
View his pedigree
here
.
Nabilah Nahd Shari Silic Pasha x Nabilah Bint Saklabilah
Nahd has very little Nazeer blood, bred out of Bint Saklabilah, a mare with no Nazeer blood, one of the most beautiful SE mares I have ever seen. A desert queen! Nahd's grand sire, Hamasa El Fagr was 5 times South African National champion stallion, truly a world class SE stallion.
He is a representative of older SE breeding and also resembles the older type of horse. He is very noble, very sturdy and correctly conformed. Through Nahd our stud has access to a wonderful out cross stallion representing the older Egyptian lines together with the wonderful Babson lineage.
View his pedigree
here
.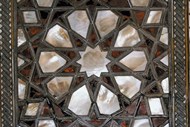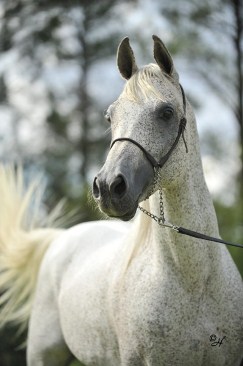 Double click to edit
Marzoukh at the Egyptian Event, US, where he came second.